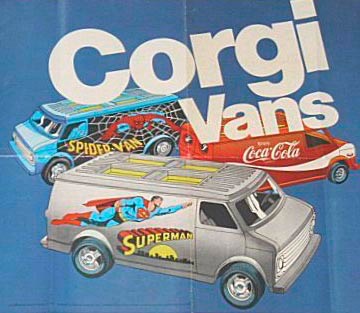 Corgi junior vans are great fun to collect in 1995 I was thinking I had most of the variations in my collection. But that was far from the truth and since then the colours and tampo variations have amazed me and most of them were in Europe. 
Then in June 2001 the Jerry fisher collection came up for sale at Vectis auctions in the UK and as luck would have it the sale was Just two miles from my home in Buckingham.
Jerry Fisher was a major player at Corgi and designed all the larger scale and Junior TV cars like the Bat mobile and the Chitty Chitty Bang Bang and not forgetting the James Bond car. 
So on a wet and windy day at the last moment i decided to go and take a look.
The auction was very large with a lot of prototypes of the more famous Large scale Corgi models as well as a lot of normal castings. As far as the Juniors a lot of them were loose in cardboard trays of around 100 to 150 models most of them being normal editions but also hidden in these boxes were pre-productions and colour trial variations that I had never seen before .
I must say if they were on sale today on the internet you might think some of them were code 3s. But as this was the Jerry Fisher collection it gave the models a lot of providence. The very interesting thing was there were lots of vans. while these were not cheap I resell some of the cars a few weeks later and made money and ended up with some 60 pre-pro corgi juniors and some cars for Free.
I was lucky to get all the vans that were up for sale that day and I think the reason for it is that most of the Corgi juniors were right at the end of the sale after the premium items were sold and the dealers were collecting there items or had just ran out of money as some of the vehicles were bringing thousands of pounds. This coupled with the fact that at the time most people were not collecting juniors (Wow! That has changed now) But buyers on the day just seemed to be interested in bidding on the larger prototype vehicles and stuff did sell for lots of money. Some other Juniors from the Collection also turned up sometime later when speaking to Jerry's family about meeting him at a show that Corgi had put on and we took our custom van along with the National Street van to a Corgi show at Donnington raceway some years earlier. To my surprise  they had found some other items that I got from her direct.